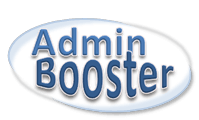 Salesforce Administration
Administering Salesforce from the command line. A productivity tool to manage your org through powerful commands.
Salesforce.com, force.com and database.com can now be managed through the console, as if it were an on-premise system !

You can download AdminBooster here. Download using right-click + save As, and name the file "adminbooster.jse".
IMPORTANT
AdminBooster can run only under Windows.
The tool is provided as-is. If you encounter any issue, please .
If you are not a geek, don't use it !
Don't bother to check the latest version on this page, AdminBooster has a built-in automated update system.
Command line usage
To run Admin Booster, open a command line or create a batch file to run it through a double-clic.
Here is a sample batch file to automate the execution:

@echo off
color 3f
mode con cols=650 lines=300
cscript //nologo adminbooster.jse
if ErrorLevel 1 goto err
goto fin
:err
color 4c
pause
:fin

Don't forget to enable the Quick Edit Mode of the command prompt, this will increase your user experience! (copy/paste by selecting with the mouse, retrieve previous commands with F7 and much more)
AdminBooster won't work if you don't have internet access to adminbooster.com

Below is the list of available command line parameters (use the scroll bars):

Usage : adminbooster.jse [/user:value] [/pass:value] [/sid:value] [/server:value] [/debug] [/sandbox] [/prerel]

Options :

user        : Authorized user for the API.
pass        : User's password.
sid         : session id, if no user/pass provided
server      : the server of your org (ex:na3.salesforce.com or na3-api.salesforce.com)
debug       : To dump on stderr some debug info
sandbox     : To authenticate on test.salesforce.com
prerel	     : To authenticate on prerelna1.pre.salesforce.com
Examples :      cscript //nologo adminbooster.jse /user:myself@mycompany.com /pass:secret
                cscript //nologo adminbooster.jse /debug /server:emea.salesforce.com /sid:Xabu.ZcSapOXihiaglMeP.....t1jqGWcvtGpYnKO9AsNCSeX5jsUoLXQ=
                if no user/password and no server/sid, script tries to get an existing sid from an IE browsing session
                connecting to the prerelease : cscript //nologo adminbooster.jse /debug /user:winter10@salesforce.com /pass:secret123HsCfhJtUXjTS8p17WxylTopi /prerel
                Compatibility test: "cscript adminbooster.jse /diagnose"
                On Error, text is dumped to stdErr


If no argument (and no Internet Explorer already logged in), there will be a prompt to let you enter a free login and password

Enter your login: mylogin@mycompany.com
Enter your password
toto
AdminBooster v0.2.666, by Jean-Luc Antoine, all rights reserved.

Running on https://na11-api.salesforce.com/services/Soap/u/26.0/00DA0000000xxxx
Type Help for... help
Use this tool at your own risk, it is provided AS IS, including all bugs.
(Mon Dec 31 18:21:20 UTC+0100 2013) 2 >

Here are 3 useful tips to start the tool:
If you are running Salesforce inside Internet Explorer (already logged in), AdminBooster will try to reuse this session. No prompt to login will be printed in case of success
If you are using the /sid parameter, you will need to define the /server too.
If you define /server without defining /sid, in your login prompt you will be able to enter either a username or a sessionId

If you are looking for other online tools, you can find